We aim to contribute to the lives of individuals by
enriching them through sports and culture.
We have established the "Sanix Sports Promotion Foundation," a public interest incorporated foundation, with the aim of promoting the development of children in the local community and supporting sports and culture. The comprehensive sports and cultural facility that supports these activities is called the"Global Arena".The operation of this facility is managed by Global Arena Co., Ltd.
Here, as a place for interaction with the local community, we host international sports tournaments and exchanges, as well as various cultural events. We strive to create countless moments of inspiration within the community and in the hearts of individuals. This sentiment has been and will continue to be the driving force behind our endeavors.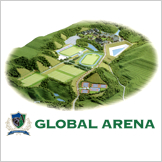 Philosophy of Global Arena
Global Arena, the Dream Stage Running through the 21st Century.
Global Arena is a multipurpose sports facility located in Yoshidome, Munakata City, Fukuoka Prefecture, Japan. It is situated along Prefectural Route 29, near the Saruta Pass, which marks the boundary with Kurate Town.
The founder of Sanix Corporation, Shinichi Munemasa, used his personal funds (derived from the founder's benefits at the time of the company's public listing) to construct Global Arena with the aim of contributing to youth development. The mission of Global Arena is to foster independent and self-reliant young individuals imbued with the spirit of "self-responsibility," "cooperativeness," and "challenging oneself."